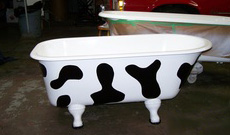 Easy and Convenient!
Are you having trouble keeping your bath tubs and tiles looking new? Like most
clients you are searching for ways to fix this problem with the least amount of
expense and time. Remodeling a bathroom can be very expensive. That is why it is important to have a resurfacing company working for you.

We can help you save up to 70% of the cost of replacement fixtures!!!
Heritage Tubs is a small independent business dedicated to customer satisfaction. You will find our prices very reasonable and we offer a warranty on all our work .

Serving the whole Lower Mainland, Hope, Whistler and the beautiful Sunshine Coast!

Are you having problems keeping the bottoms of your tubs looking clean? We have a solution; by applying a CSA Non-Slip Surface in the same color as the tub itself, this can cover the worn area. This can be completed in one day.

Custom colours and designs are available.

We also have many claw foot tubs on hand for sale.
---